New & Refurbished Computer Products

To see just a small sampling of what we have to offer, please select which type of system you think you are interested in.
We offer the latest in hardware - new and refurbished - for both businesses and computers. Unlike other similar companies, thanks to our arrangements with many varied hardware makers, we are able to offer both PCs and Macs for our customers, all in one great location!
Our staff will also work with you, asking simple, not overly technical, questions about how you will use your computer so that we can guide you into the right system, always with the purpose of making a satisfied customer, not just something that would benefit us.


Q: I've recently purchased a package with several software titles, but I don't feel comfortable with the installation process. Can you help?
A: Certainly. We're well-versed in installing software on both PCs and Macs, and can ensure that if you need to uninstall your software, it goes smoothly, as well. On occasion, you may find that your software will need to update itself; it will connect to the internet, to search for any updates or new features that you're entitled to. This process is completely normal, and we can help you with these updates if needed.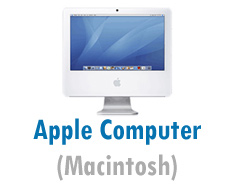 PC or Mac? Let Us Help
At Computer Pro, we have been pairing the right system with the right person for over 20 years. In the ever changing world of computers, we can help guide you through buying the right one for what you need, ensuring you don't spend money on features and add-ons that won't serve you. Call for an appointment today and let us order or build the best computer for you!