Q: I've just bought my first computer, printer, keyboard and mouse. Can you help me set it all up so it works correctly?
A: Absolutely – just give us a call, and let us know when you'd like us to come over and get your computer up and running for you. We'll make sure the cables are in the right spots, your monitor is at a comfortable height, your mouse is available to your dominant hand, and then we can help set up any appropriate security measures, such as passwords, etc, if you need them.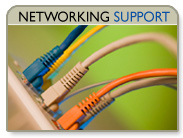 Computer Pro specializes in helping professionals, small businesses, and corporations stay productive every day by offering a wide range of consulting services.
We strive to offer our clients the best service possible. Our technicians are trained and experienced in many IT services, and are customer service oriented.
Medion AMD 64
X2 5000
W/1meg cache
$499.00
2 GB RAM.
320GB HD,
DVD burner
DL 8 channel Souround sound 10/100/1000 Ethernet
» Learn More About This Product
Protecting What Matters
Don't know your CAT-6 from your FireWire? We Do. In addition to the best hardware support around, we offer network security and anti-virus protection for businesses and home users and even provide data recovery services for those times when one file means all the difference in the world. Our friendly techs will help you learn how to protect your system, ensuring less headaches for you.