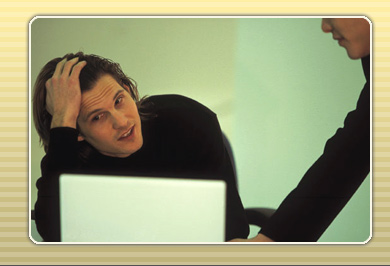 Computer Repairs
Our on site staff has all of the tools and parts needed to fix your computer, usually much sooner than the big chain guys. We rely on a dedicated network of like minded suppliers to ensure that even if we don't have it right now, we can easily get nearly any part you need. And because we are authorized resellers and support techs for companies such as Apple, HP, Lenovo, Dell, Acer and others, we can usually get the part straight from the maker, ensuring compatability
All of the techs working at Computer Pro will take the time to explain to you - in easy to follow language - what it is wrong with your PC or Mac, so that you fully understand what we have to do to fix it, and why. In addition, our staff will always give you the advice that is best for you, without favoring one technology over the other for our own gain.
From RAM to hard drives, and everything in between, trust the techs at Computer Pro with your computer!

Call and make an appointment today and let us help you!
The professionals at Computer Pro are ready to help you with anything that may need repair, from slow speeds, to device conflicts, to printer setups.

We have the technical know-how to help you, and your computer, perform well for daily tasks or special duty. From making your computer work faster and more efficiently, to creating a wireless network for all of your computers to talk to each other, to adding a printer or updating software, you can trust us to do our very best for you.



Compaq CB029A
Laptop
$499.00
Intel Pentium dual core
1.60GHz
1GB DDR2
1200GB 5400rpm SATA
8X DVD±R/RW
15.4" WXGA+ BrightView
» Learn More About This Product
Q: I have two computers at home, and recently purchased a printer I'd like to use for both. I've heard that if I have Wi-Fi, I can print to the printer from both machines, without cables – is this true?
A: It's absolutely true. We can help you set up a wireless internet connection in your home from which all of your computers can connect to each other, and your printer, via a network. This network will only be accessible by your computers, and cannot be accessed from those outside your network, with the proper installation.
We Know How You Feel
Taking the time out of your busy work day or personal life to get your computer fixed is no one's idea of a good time. That's why the experts at Computer Pro make the process as simple as possible. We carry all the best brands, from top manufactures and are qualified to fix Acer, Apple, Dell, HP, Lenovo and more. Rest assured we will get you back up and running very quickly. Call and Make Appointment today!