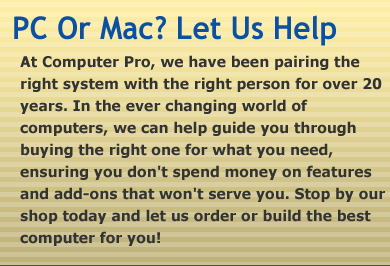 Featuring the latest technology from Apple, we are proud to be an Apple retailer and part specialist. From older Macs to the MacBook Air, we can help you think different! We also sell individual parts to help upgrade and enhance the performance of your system.
To see larger versions of these products, please click on the thumbnails!


Q: I've recently purchased a package with several software titles, but I don't feel comfortable with the installation process. Can you help?
A: Certainly. We're well-versed in installing software on both PCs and Macs, and can ensure that if you need to uninstall your software, it goes smoothly, as well. On occasion, you may find that your software will need to update itself; it will connect to the internet, to search for any updates or new features that you're entitled to. This process is completely normal, and we can help you with these updates if needed.